The next step toward forgetting last season starts Sunday for the Indianapolis Colts.
Players report for training camp at Rose-Hulman Institute of Technology in Terre Haute, Ind., and renew their quest for that elusive Holy Grail, the Vince Lombardi Trophy.
What's the scoop at running back?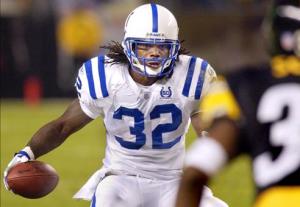 The loss of Edgerrin James to the Cardinals will be felt, not only in the loss of his rushing yardage, but his pass-protection skills and his positive locker room influence. It's imperative that rookie Joseph Addai reach a contract deal and get into camp. He has an opportunity to challenge Dominic Rhodes for the starting spot, but that won't happen if he's a holdout.
The Colts' offensive line is strong enough, and the passing game potent enough, to make a Rhodes-Addai partnership work in the backfield. But Addai must get into camp and start learning.
Who'll replace David Thornton?
Thornton, like Mike Peterson and Marcus Washington before him, was allowed to move on in free agency under the assumption that the Colts will find an able-bodied linebacker to replace him. The top choice is Gilbert Gardner, who has shown promise but has had trouble remaining healthy. Cato June at one outside linebacker spot and Gary Brackett in the middle are solid. Gardner's health will be a major factor in how strong the Colts' defense becomes.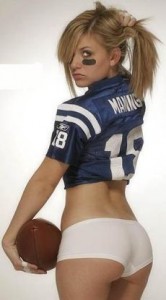 Will Brandon Stokley return to form?
Stokley's production dropped significantly in 2005. After logging 1,077 receiving yards and 10 touchdowns in 2004, his numbers dropped to 543 yards and one TD last season. Much of the drop was due to the most frequent use of two tight ends in the Colts' offense, with Dallas Clark in the slot. Stokley's yards per catch (13.2) were still respectable, and it may turn out that his 2004 numbers were an aberration due to Peyton Manning's record-setting season.
Stokley remains a quintessential team player and one of the best at running routes in traffic across the middle. His numbers could rise again if the Rhodes-Addai running attack struggles and Manning goes more and more to the air. Stokley might not reach 2004 heights, but expect a rebound to numbers higher than last season as he continues to supplement Marvin Harrison and Reggie Wayne.
Can a kicker provide confidence?
Adam Vinatieri brings his Super Bowl rings and experience from the New England Patriots, replacing Mike Vanderjagt at kicker. There's little difference between Vinatieri and Vanderjagt statistically, but Vinatieri's demeanor is much more suited to the workmanlike style of Colts coach Tony Dungy.
Vinatieri is clutch, and Manning will appreciate the security of knowing three points are almost always assured with a decent offensive drive. Plus, Vinatieri won't say anything controversial to the media.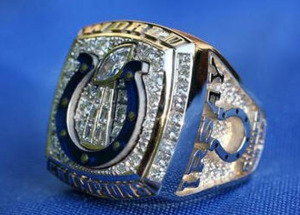 Will Corey Simon become more dominant?
Simon says he has dropped some excess weight from last season, and that can only be a major positive move.
Two factors worked against Simon last season — his weight and his unfamiliarity to the Colts — but he still made a solid contribution.
If he's in tip-top shape, he could be dominant on the defensive line, making sack experts Dwight Freeney and Robert Mathis even more effective. Seeing Simon report in good shape would a beautiful sight on Sunday.
Will there be significant changes in the secondary?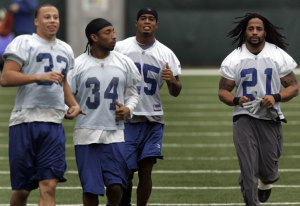 Speculation that Marlin Jackson might be moved to safety did not materialize, but look for Jackson to push for a starting spot at cornerback this season.
His speed and savvy demand to be put to better use. Whether that means less time for Jason David or Nick Harper remains to be seen. Harper, who'll be 32 this season, isn't getting any younger, but he's far from over the hill.
The only indispensable defensive back would be safety Bob Sanders, who improved by leaps and bounds during his first two seasons.
Can the Colts put last year's fizzling end behind them?
NFL training camp is much like baseball's spring training. It's a fresh start. There were departures (James, Thornton, Vanderjagt and Larry Tripplett) and additions (Vinatieri, Addai and other rookies), but the core of the Colts remains the same.
Dungy has had time to recover — as much as that's possible — from the death of his son and refocus his energy on coaching.
As usual, no matter how much is answered in training camp, this year's success won't be determined until the playoffs in January. Super Bowl or bust? No question.